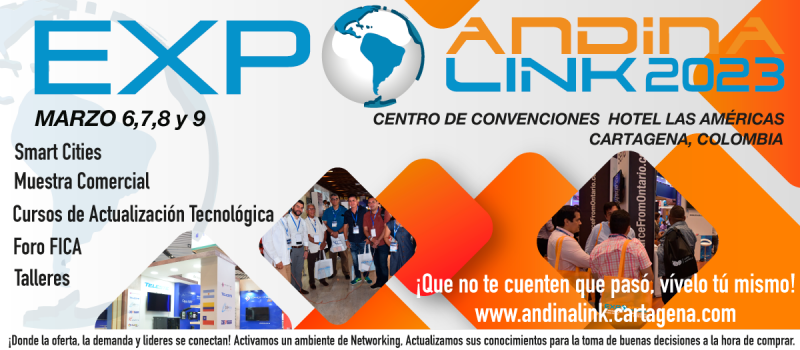 Andina Link

Cartagena 2023
Andina Link, with a history of 28 years, is the prestigious International Fair of Telecommunications and Convergent Technologies, has positioned itself as the preferred place for negotiations and networking of the industry in Latin America; with the most impressive trade shows in the region; it is the preferred place to present new trends and the latest technological advances in the industry, it has also stood out for bringing together the highest echelons of the ICT sector, decision makers in government and large companies.
Two academic sessions of great benefit for professionals who seek to expand their knowledge and project new implements in their companies.
Get ready for the next edition of the Expo to be held March 7-9, 2023 at the Cartagena Hotel Las Américas and be part of one of the biggest events of the year.
Andina Link The Opportunities Fair, where the Convergence unites Latin America with the world
MIGRATORY REQUIREMENTS VISAS
Do you need a visa to enter Colombia?
The visa is mandatory, except for citizens of the following countries: Germany, Argentina, Austria, Barbados, Belgium, Brazil, Canada, Costa Rica, Chile, Denmark, Ecuador, El Salvador, Spain, United States, Finland, France, Great Britain, Guatemala, Italy, Japan, Liechtenstein, Luxembourg, Mexico, Norway, the Netherlands, Peru, Poland, Republic of Korea (South Korea), Germany, Sweden, Switzerland, Trinidad and Tobago, Uruguay, Venezuela and foreign residents of Canada and the United States.
When you enter Colombia with your international passport at the airport, it is mandatory to go through the immigration offices where you need to fill out a document. You can stay about 180 calendar days per year in Colombia with a tourist visa. After entering you will have about 30, 60 or 90 days. Depending on your plans, you can immediately apply for the corresponding stamp when entering the country. Do you want to stay longer? (which is perfectly possible because you will love Colombia), ask for 90 days. After 90 days you can extend the permit by 90 days. You can enter and leave the country, but it is easier to visit the immigration office in Bogotá. After the 180 days that the tourist visa expires, you will only be allowed to stay in Colombia applying for a visa or wait for the next calendar year; Then you will have 180 days as a tourist again.
You can apply for a student visa, tourist visa or work visa. A first work visa must be processed in Colombian consulates abroad (in the rest of the cases it will be done in Bogota). There are 5 types of passports: Ordinary, Executive, Emergency, Border and Exempt.
For information about vaccines to travel to Colombia and health recommendations Here
Here you can find all the information about it: chancellery.gov.co
Location: Avenida 19 No. 98-03, 3ery 4topiso, Bogota D.C.
Hours of operation: Monday to Friday 7:30 am to 12:00 noon (last business day of the month 7:30 am to 10:30 am).
Statistics Andina Link 2022